LIFE Cyclamen at NCP Network Workshop and LIFE Conference in Zagreb, Croatia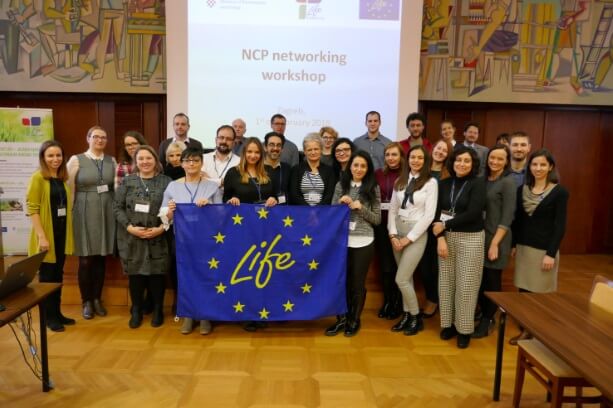 LIFE Cyclamen participated at the NCP Network Workshop and LIFE Conference that took place in Zagreb Croatia on the 1st and 2nd of February respectively.
During the NCP Network Workshop the LIFE Cyclamen team members had the opportunity to exchange experiences with the other NCPs, share important best practices and discuss about how obstacles were overcome. More specifically the workshop focused on lessons learned from the 2017 call and from the evaluation of LIFE projects in the 2016 call. The most recent information on the 2018 call was shared and the new two-stage approach, under the Environment Sub-Programme, was discussed. In addition, the workshop participants touched upon the issues that trouble each NCP.
The other NCPs which took part in this workshop were from Slovenia, Hungary, Lithuania, Latvia, Slovakia, Netherlands, Greece, Estonia, Austria and of course Croatia – the hosting country.
On the 2nd of February the LIFE Cyclamen team members participated in the LIFE Conference along with another 160 participants from Croatia and other European countries. During the conference our Climate Expert, Panos Kakonitis, presented on the topic of policy uptake in climate change adaptation related to a LIFE project in Cyprus (CYPADAPT – LIFE10 ENV/CY/000723).
On the same day our team members had the opportunity to hear about projects with direct impact on policy uptake, close-to-market innovative solutions, good examples of transferability and replicability in LIFE projects, as well as hear about the socio-economic impact of LIFE projects and about how synergies between the LIFE Programme and other funds work.
All in all, it was a very fruitful experience that has equipped our team with more knowledge and has created even stronger bonds of collaboration between the Cyprus team and other NCPs.