The LIFE Cyclamen team at the Nicosia Green Dot festival 2018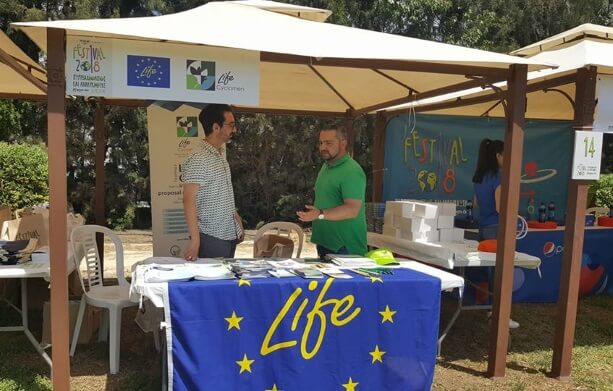 The LIFE Cyclamen team participated once again at the Green Dot Festival, which took place on Saturday May 12th at the Acropolis Park in Nicosia.
Visitors to our stand were able to learn what the LIFE Programme is all about, who can benefit from it, as well as find out about different running LIFE Projects in Cyprus, which are assisting our country in reaching its environmental goals.
We also had the opportunity of assisting visitors who were considering applying for a LIFE Project. One of our visitors was Mr Marios Philippou from Green Dot, who is looking for support in building a transnational project on Information and Communication in the field of Climate Change Adaptation.
The festival this year was dedicated to a LIFE Project that Green Dot was running until recently. The Project Rethink, which focused on running an awareness raising campaign aiming at the Reduction, the Reuse and the Recycling of waste.
It was a truly fun day for both kids and adults! And for us it was a great opportunity to reach out to the general public and inform people about how the LIFE Programme is assisting our country and the rest of Europe in improving our environment.