The LIFE Cyclamen team at the Limassol Green Dot Festival 2018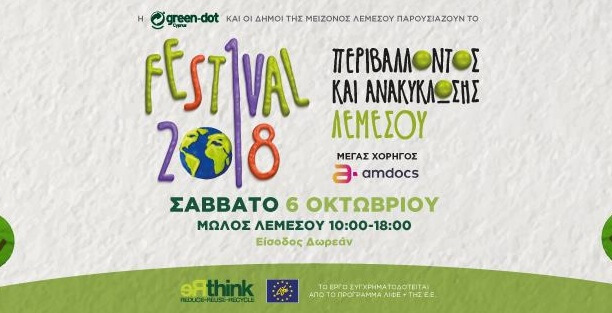 The LIFE Cyclamen team will be at this year's "Limassol Recycling and Environment Festival" organised by Green Dot Cyprus. The Festival will take place on Saturday, October 6th 2018, from 10 a.m. to 6 p.m. at Molos in Limassol.
The Festival aims to promote the contribution of recycling in the protection of the environment and the improvement of WELL-BEING, our quality of life and health. At the same time, it will promote the need for all to collaborate in shaping personalities that will respect both the environment and our health.
During the festival we will have the opportunity to inform people about the LIFE Programme – the EU's funding instrument for the environment and climate action.
Join us at the LIFE Cyclamen Stand and learn about the priority areas of the LIFE Programme, hear about Cypriot LIFE Projects that are either running or completed and find out how your National Contact Point (NCP) can support you while preparing your proposal, during your Project as well as after the end of your Project. We will be glad to discuss your idea with you and see whether it can be eligible for funding under the LIFE Programme.
Find out more about the festival here.