LIFE UrbanProof Consortium Meeting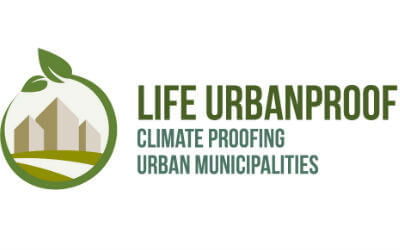 Life UrbanProof organised a consortium meeting on Monday April 30th, at the Department of Environment in Cyprus. The overall aim of the UrbanProof project is to increase the resilience of municipalities to climate change, equipping them with a powerful tool for supporting better informed decision making on climate change adaptation planning.
The meeting included a visit at the Lakatamia and Strovolos' small scale infrastructure locations.
In Strovolos, Life UrbanProof will transform a large plot of land, which is now an unutilized green area, into a public green area with plants that require low maintenance and don't have much need of water. This green area will have an automatic watering system and sensors that gather meteorological data that will help us observe the current climate, as well as help us project future climate changes.
In Lakatamia, the Project will totally reform a roundabout. More specifically, special material will be placed on the ground, allowing the rain water to go through the soil instead of flooding the specific area. In addition, a new selection of plants will be planted and these will be selected based on their low water needs. Moreover, a meteorological station will be place on the roundabout, again collecting data for the purposes of the Project. The development of this roundabout will become an example for other municipalities, as well as for citizens, who for instance will realize the benefit of covering their gardens with water absorbing material instead of tiles – which is the norm these days.
LIFE UrbanProof is trying to bridge the gap between scientific and local understanding of climate change, while at the same time involving the public in the adaptation planning of municipalities.
The data that will be collected from the different municipalities involved in this Project will be used to develop maps of high risk areas and allow municipalities to define specific criteria and make decisions related to urban planning development. At the same time, municipalities can define their future strategy, as well as influence policy makers on the subject.
Part of this LIFE Project is also the development of a user-friendly Toolkit that will include information about adaptation, vulnerability, climate etc. This toolkit will allow municipalities, NGOs, the scientific community, as well as companies and citizens themselves to check for instance the vulnerability of a specific area to floods or heat waves and adapt accordingly. This toolkit will be ready for use by October 2018.
The coordinator of this Project is the Department of Environment, Ministry of Agriculture, Rural Development and Environment. The partners are: Università IUAV di Venezia, Italy Municipality of Peristeri inGreece, the Municipality of Strovolos in Cyprus, the Municipality of Lakatamia in Cyprus, Comune di Reggio Emilia/Municipality of Reggio Emilia in Italy, National Technical University of Athens (NTUA) and the National Observatory of Athens.
We are all looking forward to seeing the results of this LIFE Project!
If you have a climate-related Green idea that you think could be financed from the LIFE Programme follow this link to find out more about the 2018 LIFE Call, or contact us.