Empower your environmental action with EU funding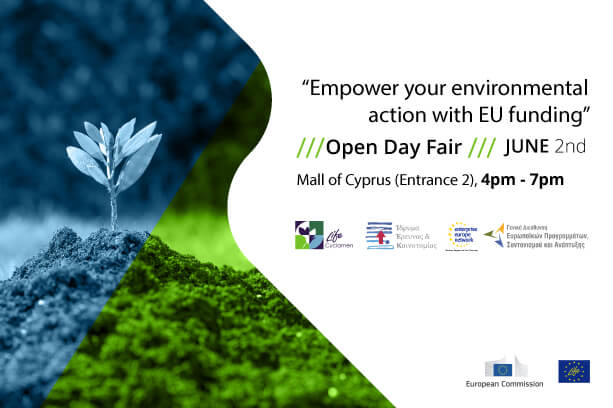 Do you represent a private organisation, public body, Local Authority, Non-Governmental Organisation or Academic Institution? Are you interested in different funding tools related to the environment and climate change? If so, then you need to visit the Open Day Fair on "Empowering your environmental action with EU funding".
The Open Day Fair will be held on Sunday June 2nd 2019, at the Mall of Cyprus (Entrance 2), between 4pm and 7pm and visitors will be able to:
Get informed about the different LIFE Projects in Cyprus, which support the protection of the environment and our health
Discuss with the National Contact Point of the LIFE Programme in Cyprus and find out if their idea could be funded under LIFE
Visit the stand of the Directorate General for European Programmes, Coordination and Development (DG EPCD) and learn about the different funding opportunities from European and National funds
Learn about Horizon 2020 – EU's Research and Innovation programme, and
Get advice from Enterprise Europe Network Cyprus (EEN Cyprus).
During your visit at the different stands you will have the opportunity to enter a draw and win a €150 gift voucher from Zenith Travel!
This Open Day Fair is organised under the LIFE Cyclamen Project, in collaboration with the DG EPCD, the Research & Innovation Foundation and EEN Cyprus.
The LIFE Cyclamen Project aims at increasing Cyprus's performing levels regarding the LIFE Programme. The latter is EU's funding instrument for the environment and climate action and its objective is to contribute to the implementation, updating and development of EU environmental and climate policy and legislation by co-financing projects with European added value.