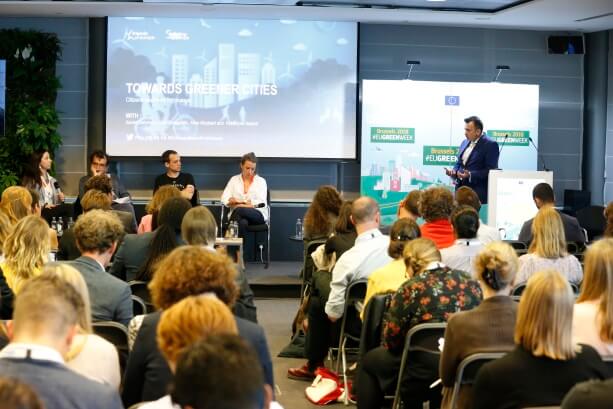 We were excited to participate in the EU Green Week 2018, where all EU countries come together to share experiences that will make our future greener. This year's Green Week was held between the 21st and 25th of May 2018 and it was dedicated to "Green cities for a greener future".
During the Green Week we learnt that more than 75% of the EU population live in cities and consume 80% of the energy produced. We have more than 430.000 premature deaths per year due to air pollution. Climate change is no longer something we read about, but it is something that touches us all. It is in fact something we need to address NOW!
It is clear that sustainable urban planning is a hot topic that we need to deal with at once. But as change can only be achieved with the participation of citizens it is crucial that city authorities engage with citizens in order to design and achieve the sustainable development of cities. They need to ask people for their opinion and engage in a conversation with them. It's important to hear people's problems and address them. The sustainable city can only be achieved if co-created with citizens, as this is the only way we can achieve behavioural change.
All in all the conclusion of the week was that sustainable city development is no longer an option, but a must. The good news is that it can be achieved and key elements in this are the following:
Transparency on behalf of local authorities and governments
People Engagement
Learning from the experience of other countries