LIFE Info Day, Federation of Environmental Organisations of Cyprus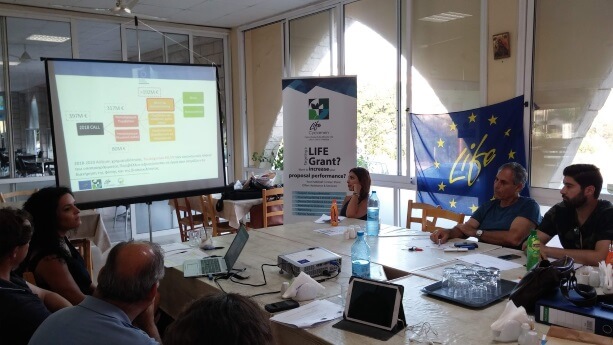 The LIFE Cyclamen team organised a short Info Day for the members of the Federation of Environmental Organisations of Cyprus (FEOC) on Friday June 15th 2018 at Choirokoitia.
The Federation is a network of 20 non-governmental organisations in Cyprus aiming at informing Cypriot citizens about issues linked to the environment and sustainable development and making them more environmentally conscious.
This short Info Day was organised after a request we received from the Federation for informing their members about the funding opportunities offered by the LIFE Programme, with the purpose of finding prospective grounds to implement their ideas and interests relating to environmental issues.
During the event, the representatives from the member-organisations were introduced to the LIFE Programme, with an emphasis on the two Sub-Programmes and their thematic priorities as described in the Multiannual Action Programme for 2018-2020. Furthermore, special reference was made on the different services the National Contact Point (NCP) offers to applicants and beneficiaries of ongoing projects. Lastly, the new way of submitting LIFE proposals for the Environment sub-programme following a 2 Stage approach was explained.
The participants had the opportunity to ask the NCP questions about funding possibilities for NGOs, such as the Federation, and highlighted the difficulties of running an underfunded NGO mostly dependent on volunteer work. The members-organisations are very enthusiastic to participate in LIFE projects as they had done in the past; hence they requested support from the NCP for finding possible partners for collaboration.
The president and members will be in touch with the NCP to discuss their ideas and areas of interest thoroughly through individual meetings, in order to identify funding opportunities under the LIFE Programme. The LIFE Cyclamen team will be in close contact with the Federation and provide them with any assistance they might need.
You can view the presentations of this event below: