Networking meeting LIFE Cyclamen – LIFE F4F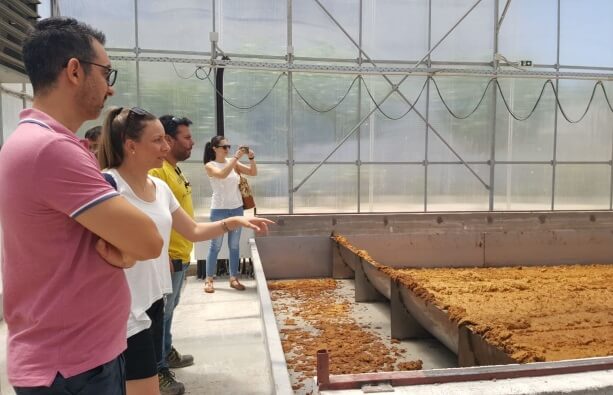 The LIFE Cyclamen team recently visited a number of LIFE Projects in Athens and Crete for experience sharing and networking purposes. On Wednesday July 3rd 2019, the Team visited the offices of the Association of Solid Waste Management of Crete (ESDAK), as well as the pilot unit of the LIFE Project LIFE Food for Feed – F4F. ESDAK is the coordinator of this project.
The purpose of this pilot unit is to evaluate an innovative, simple technology and low emissions process that allows the safe transformation of source separated food wastes, mainly from hotels (and generally from the hospitality and food service sectors), into animal feed, utilising an altered solar drying process. The pilot unit is at Mavros Spilios, Nea Alikarnassos Regional Unit, of Heraklio Municipality.
Apart from ESDAK, the other project partners are: The Technological Educational Institute of Crete, The Agricultural University of Athens, Harokopio University and Freie Universität Berlin.
The LIFE Cyclamen Project aims to support and assist Cypriot applicants and help increase the success rate of Cypriot LIFE proposals, thus making use of this EU fund that aims to improve our environment. Through this visit the LIFE Cyclamen team was able to create connections that could possibly lead to future partnerships between LIFE F4F partners and Cypriot potential LIFE applicants.