Workshop "How-to-write a LIFE Proposal"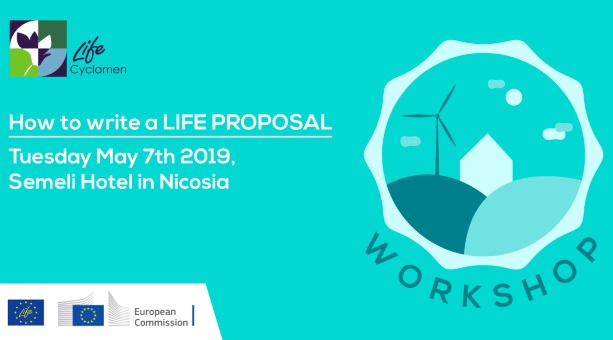 The LIFE Cyclamen team is organising a Workshop on "How-to-write a LIFE Proposal", on Tuesday May 7th 2019, at Semeli Hotel in Nicosia.
Purpose
The purpose of this workshop is to explain how the LIFE Programme works, starting from the very beginning with the Call of Proposals until the submission of Proposals and their assessment. In addition, it aims to provide guidance to participants through the experience of the National Contact Point (NCP).
You can find more information on the content of the Workshop by viewing the Agenda: Workshop How-to-write a LIFE Proposal 2019. To note, that our workshop will be in Greek.
Gains
With the completion of this Workshop participants will be able to:
Understand the way a LIFE Proposal is submitted and know the different deadlines
Understand the award criteria
Incorporate the award criteria in their Proposal
Recognise the importance of EU Added Value
Include in their consortium partners with relevant experience and know-how
Distinguish the difference between stakeholders and target audience
Identify the expected risks and limitations
Who can participate
This Workshop is part of a series of Workshops organised under the LIFE Cyclamen Project for the informing of current and possible beneficiaries of the LIFE Programme. It is designed for individuals with previous LIFE experience and / or basic knowledge around the LIFE Programme.
Registrations
Book your seat by filling in this form.