LIFE Networking Event 2020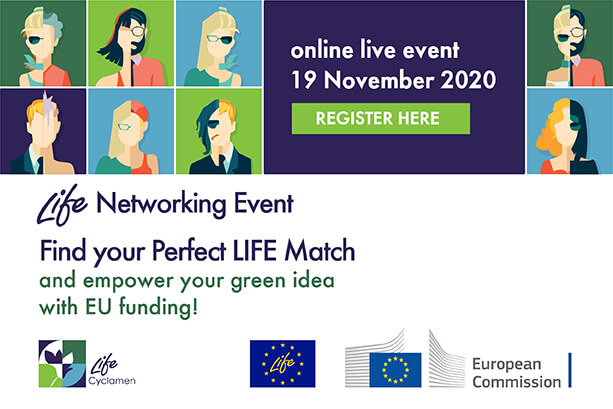 The LIFE Cyclamen Team is hosting a Networking Event, which will be held in the form of:
A live streaming experience sharing event, on Thursday November 19th 2020 (11:00 – 12:30 EET), and
Bilateral virtual meetings (from November 19th until December 31st, 2020).
Current and past LIFE beneficiaries will join LIFE applicants, as well as LIFE enthusiasts who haven't had the chance to apply for funding yet. Through the exchange of experiences and with the opportunity to have 1:1 virtual meetings with others we hope to assist you in forming new collaborations that will lead to new LIFE Proposals.
View the live streaming experience-sharing event recording and the guest speaker presentations here.
What is LIFE?
The LIFE Programme is the EU's funding instrument for the environment and climate action. The general objective of LIFE is to contribute to the implementation, updating and development of EU environmental and climate policy and legislation by co-financing projects with European added value.
Is this event for you?
If you represent a public body, private company, start-up, non-governmental organisation, university, or research centre and institute, then this event is definitely for you! Click here to read more and register.
How can you benefit from this event?
Learn from the experience of our guest speakers, who come from the projects: LIFE Terracescape (Green Fund), LIFE-FOODWASTEPREV (National Food Chain Safety Office, Hungary), LIFE GrIn (Hellenic Agricultural Organization "DEMETER", Institute of Mediterranean Forest Ecosystems) and LIFE RE-WEEE (Appliances Recycling S.A.).
Have 1:1 virtual bilateral meetings with our guest speakers and other participants
Chat with others and explore common interests
Form new collaborations and begin your LIFE Proposal preparation the next day!
Main topics
Environmental technologies and solutions, including water, waste, air quality, soil, forest, health
Climate change adaptation
Climate change mitigation
Nature conservation and biodiversity
Climate and environmental governance and information initiatives
Virtual 1:1 networking
Timelines
Send, receive and confirm 1:1 meetings from
October 19, 2020 (09:00) to December 30, 2020 (17:00)
Confirmed meetings are scheduled from
November 19, 2020 (13:00) to December 30, 2020 (17:00) based on participants' preferences
Note: Meetings are managed virtually
via video conferencing call provided by this platform