LIFE Programme: €380 million for 168 new green projects all around Europe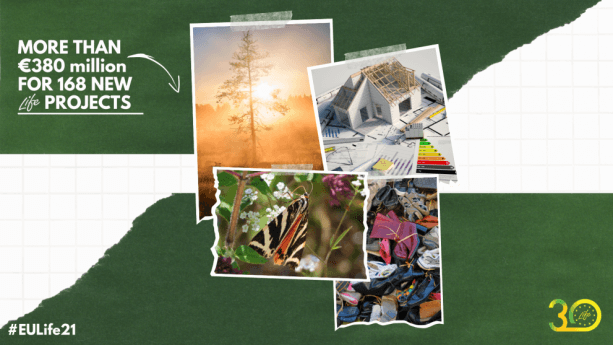 The European Commission recently approved more than €380 million of funding for 168 new projects across Europe under the LIFE Programme for the environment and climate action. At the heart of the European Green Deal, LIFE projects can help the EU become climate-neutral by 2050 and reach climate, energy and environmental goals. They support biodiversity, nature restoration and a circular economy while contributing to the clean energy transition across the continent.
The funding is a 27% increase on last year's funding and will mobilise a total investment of over €562 million. Projects from almost all EU countries will benefit from this EU funding in four themes (sub-programmes): nature and biodiversity, circular economy and quality of life, climate change mitigation and adaptation, and the clean energy transition.
Cyprus received funding for 2 LIFE projects. The first project is LIFE AgrOassis, which aims to support climate change adaptation in the agricultural sector in Cyprus and Greece. To this end, the project will develop, demonstrate and promote innovative techniques and approaches to reduce the risks associated with desertification, inappropriate land use and wildfires. It will also implement measures to regenerate ecosystem services and restore biodiversity through the afforestation of degraded field margins and aiding pollinators.
The second Cypriot project is SMART SQUARE. This project aims to develop tools for increasing the smartness of buildings (Smart²) based on the EU Smart Readiness Indicator (SRI) scheme. It will deliver a cloud-based open platform for assessing buildings to identify cost-effective smart building improvements, an SRI observatory to monitor progress, and an SRI audit process to foster standardisation. Real-time data will also be used to resolve interoperability and cybersecurity issues.
The LIFE Programme is the EU's funding instrument for the environment and climate action. It has been bringing green ideas to LIFE since 1992 and, to date, has co-financed over 5,500 projects. For the 2021 – 2027 period, the EU has increased LIFE Programme funding by almost 60%, up to €5.4 billion.
Cyprus has been participating in projects funded by the LIFE Programme since 1992 and to date has a total of more than 70 projects, with a total budget of over 66 million euros.