LIFE Info Day at the Employers and Industrialists Federation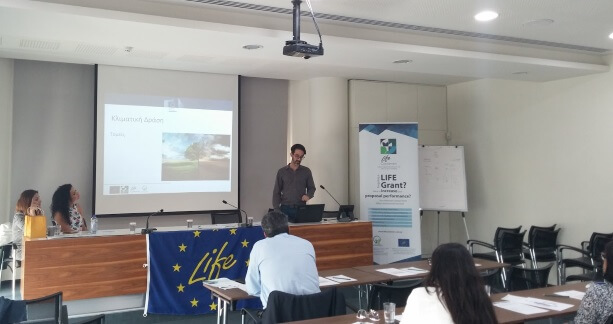 The LIFE Cyclamen team organized an Info Day on Wednesday the 25th of April 2018, at the premises of the Employers and Industrialists Federation in Nicosia. This Info Day was organized after the invitation we received from the Federation, as they found it very important that their members are made aware of the LIFE Programme and how they could benefit from it.
The purpose of the short Info Day was to inform participants about the funding opportunities for green ideas offered by the LIFE Programme – EU's funding instrument for the environment and climate action. We also wanted to inform potential applicants about the support the National Contact Point (NCP) can offer them while writing their proposal, during the duration of their project, as well as after the end of their Project.
During the event, the two Sub-Programmes and their thematic priorities were described, based on the Multiannual Action Programme for 2018-2020. Reference was made on the new way of submitting LIFE proposals for the Environment sub-programme (2 Stage approach). In addition, participants were made aware of the different services the National Contact Point offers to applicants.
Furthermore, the attendees had the opportunity to have a one-to-one consultation with the Cyclamen team experts, in order to discuss their ideas and the their eligibility under the LIFE Programme.
Overall, it was a productive event that gave participants the chance to ask questions about the LIFE Programme. A number of participants from SME's and Local Communities requested a follow-up meeting in order to further discuss their ideas.
You can view the presentations of this event below:
1. Why choose the LIFE Programme 2. The role of the NCP 3. Nature & Biodiversity 4. Environment & Resource Efficiency 5. Climate Action