LIFE Info Day at the University of Nicosia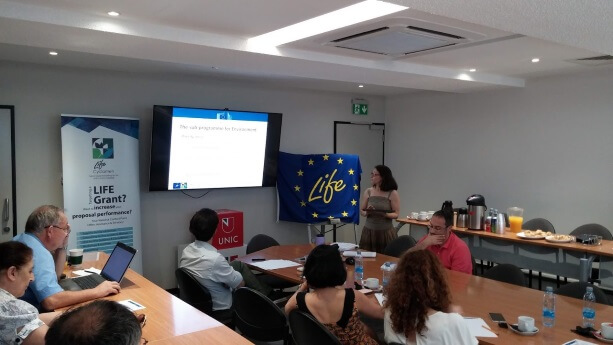 The LIFE Cyclamen team organised an Info Day at the premises of the University of Nicosia, on Wednesday June 6th 2018.
The purpose of this short Info Day was to inform participants about the funding opportunities of green ideas offered by the LIFE Programme – EU's funding instrument for the environment and climate action. We also wanted to help participants see how their ideas can be eligible for funding under the LIFE Programme and encourage them to submit their proposals for the 2018 LIFE Call.
During the event, the two Sub-Programmes were described based on the Multiannual Action Programme for 2018-2020. Reference was made on the new way of submitting LIFE proposals for the Environment sub-programme (2 Stage approach). In addition, participants were made aware of the different services the National Contact Point (NCP) offers to applicants, as well as to ongoing projects.
The LIFE Cyclamen team will continue to be in close contact with the University of Nicosia and provide them with any assistance they might need.
You can view the presentations of this event below:
1. Why choose the LIFE Programme 2. The role of the NCP 3. Environment and Resource Efficiency 4. Climate Action 5. Hints and Tips for writing a LIFE Proposal