Networking Event for LIFE Projects, 2018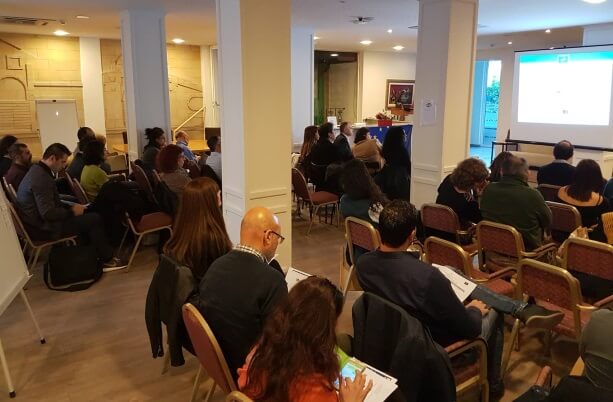 The LIFE Cyclamen Team organised a Networking Event on Thursday December 13th 2018, at Centrum Hotel, in Nicosia.
LIFE beneficiaries with years of experience in running LIFE Projects joined us, together with LIFE experts from abroad, who shared their rich and valuable experiences and results with participants.
The purpose of the event was to enhance diffusion of projects' results and to promote brokeraging, so as to boost potential reproducibility and marketisation of the results of Cypriot beneficiaries abroad and vice versa.
Below we are listing a few of the points that were raised during the event:
The LIFE Programme has supported the implementation of environmental legislation in Cyprus in many different thematic priorities and in a remarkable way for more than 25 years.
The LIFE Programme often requires the cooperation among different bodies and the promotion of synergies among them within LIFE Projects.
The LIFE Programme has assisted in the implementation of the environmental acquis and in many cases it has even assisted in the collection and processing of data with the purpose of implementing and/or improving Directives and Regulations.
While working on a LIFE Proposal it is wise to not exaggerate with targets, actions, as well as expected results.
The results of a LIFE Project have many times assisted other LIFE Projects.
LIFE Projects have assisted in the creation of databases that can be used by other LIFE Projects, or even turn into tools that can be used by Competent Bodies and Authorities.
When structuring LIFE proposals we need to have a mid-long-term strategy planning for policies, rather than short-term.
Communication with local authorities is a very important element for a community to accept and support a LIFE Project in achieving its goals.
LIFE Projects often assist in the creation of local volunteer groups.
Through LIFE Projects we have seen the collaboration of public and private bodies in an effort to overcome the barriers and delays caused by red-taping.
LIFE Projects often give private bodies the possibility of influencing policy.
Government funding can be attained for implementation of Action Plans incorporated in LIFE Projects. This is, at the same time, a commitment of Local Bodies and Competent Authorities for the implementation of policies, as well for the sustainability of project results.
A LIFE Project often focuses on a specific policy / legislation / species, but at the same time other policies / legislations / species are benefiting as well.
The LIFE Programme can help bodies, with no- or limited access to other bodies / groups, gain this valuable access.
LIFE Projects have managed to communicate an environmental problem to the general public with ingenuity and in simple language!
Through LIFE Networking events the results of LIFE projects can be further communicated to other interested parties thus increasing their replication potential.  In addition to that, new ideas as well as new chances for collaborations may initiate!
We would like to thank all those who participated in this networking event and hope that all the presentations and the subsequent discussions were the beginning of new partnerships and synergies!
Below you can view all the presentations from this event:
1. LIFE EUROTURTLES 2. LIFECAB 3. LIFE MEDEA 4. LIFE GREEN GRAPES 5. RELIONMED LIFE 6. LIFE+ ORGANIKO 7. LIFE UrbanProof 8. iLifeTroodos 9. LIFE PM3 10. LIFE CHERRE 11. LIFE OROKLINI 12. BirdLife Greece Part 1 12. BirdLife Greece Part 2 12. BirdLife Greece Part 3 13. Sustainable Waste Management 14. Climate Action Part 1 14. Climate Action Part 2